Life is Better with Alpacas
We are excited to announce our newest additions to Chimney Pond Farm: Arnold, Simba, Gretzky, and Mafa. We now have four beautiful Alpacas on our property. Alpacas are the gentle yet inquisitive relative to the llama. They have a very social nature and make a great family friendly addition to our farm. Check out the interactive Alpaca experiences available below for you and your family to enjoy.
Feeding the Alpacas: $10 per feed
This is perfect for guests lodging on property as it is available twice a day; morning and late afternoon. This is a 15 minute alpaca encounter where you are able to get close and personal while feeding our beloved farm animals. Please email our team to schedule.
Farm Tour: $25 per person
Our lead farmer will guide you through our 45-minute farm tour, sharing insights into sustainable farming practices and the different varieties of Christmas trees that we cultivate. You will have a chance to meet our four friendly alpacas and their trusty great pyrenees protectors. The farm tour offers an educational and interactive experience, and our lead farmer is always happy to answer any questions you may have. It is a family experience you can't miss.
Wedding Experience: $725 for Two Alpacas
Wow your guests with a pre-ceremony alpaca meet and greet. Our lead farmer will accompany two alpacas to the overlook porch area and greet guests as they arrive for your ceremony. This is a wedding guest favorite and brings a beautifully unexpected "wow factor" to the day. The photos themselves are worth their weight in gold. Please inquire with our wedding staff and they will gladly get you any additional information.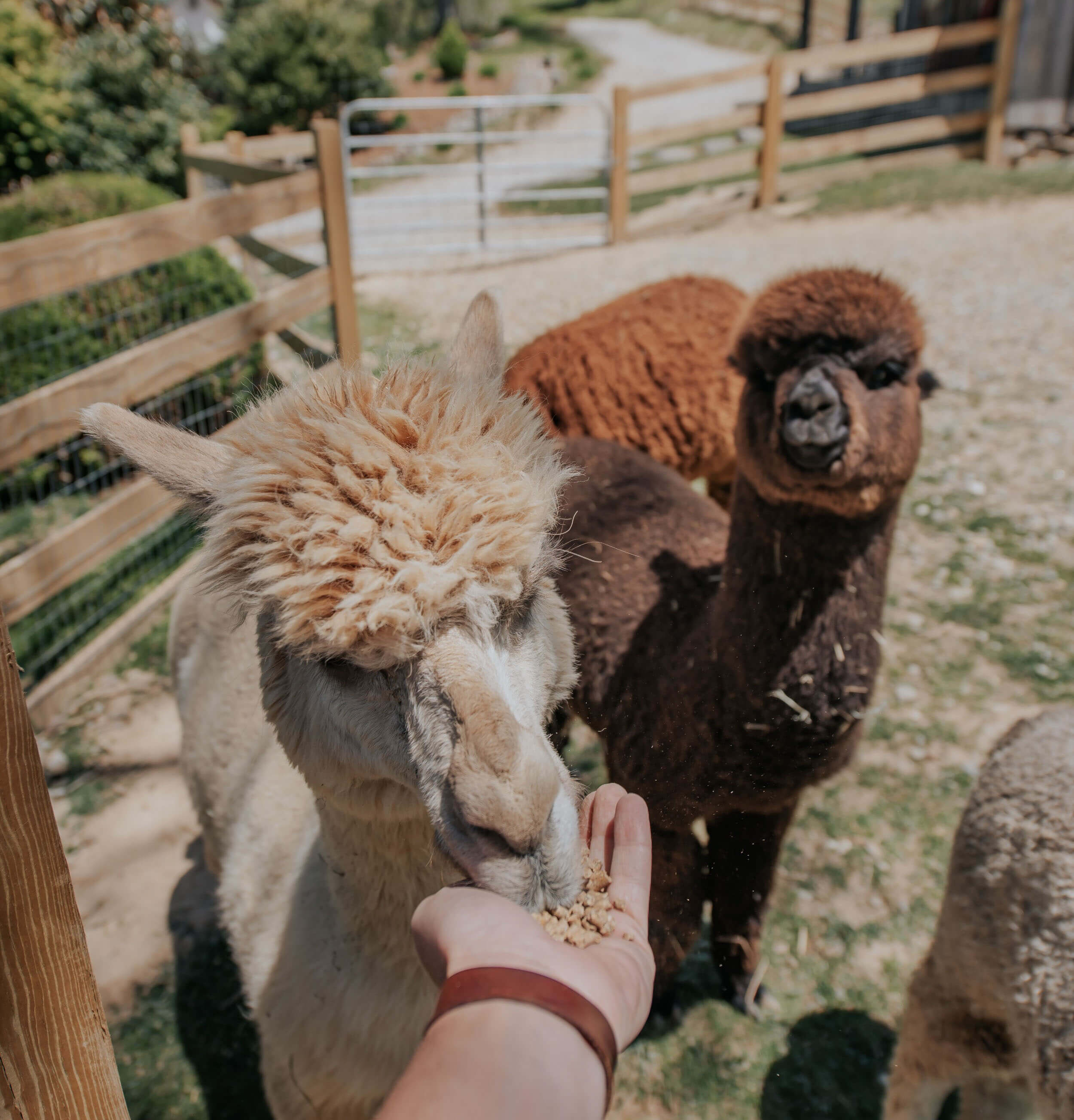 Alpacas are domesticated camelids native to South America, particularly Peru, Bolivia, and Chile. Their fleece is incredibly soft, hypoallergenic, and is considered one of the finest and most luxurious natural fibers in the world. Alpacas are intelligent animals and can be easily trained. They are also very social so come and have a memorable and interactive encounter with Arnold, Simba, Gretzky, and Mafa.